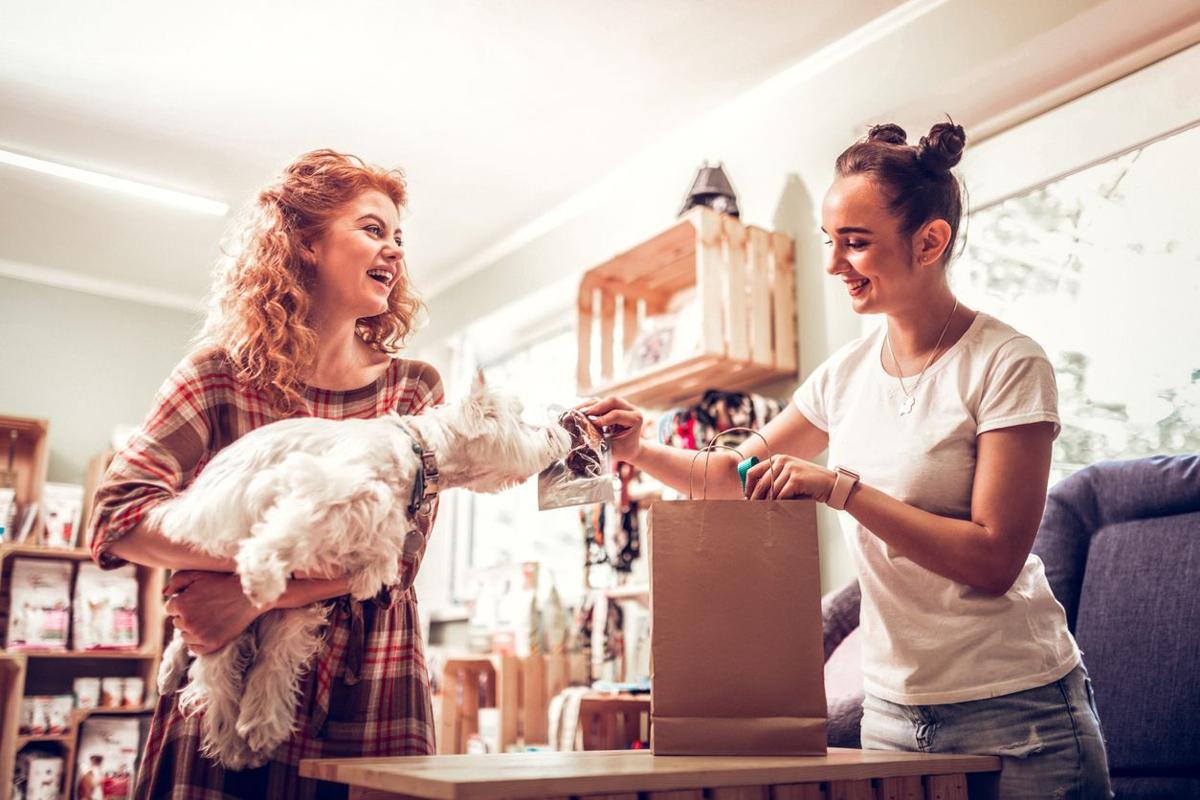 If you're like many pet parents, bringing your furkid along on a shopping trip would be the perfect way to spend a day. While many big-name chain stores have a "service dogs only" policy, you may be surprised to know that a number of them will in fact allow you to shop with your Shih-Tzu or browse with your bulldog. 
Department stores
Several department store chains around the country have been known to welcome pets. Banana Republic is notably dog friendly, with some locations offering treats to canine visitors. The Gap and Old Navy, which are owned Banana Republic's parent company, have also been known to allow dogs. Bloomingdales, Saks Fifth Avenue, T.J. Maxx and Marshalls allow dogs in at least some of their locations, and Nordstrom has welcomed pooches through its doors for years. Bed Bath and Beyond goes above and beyond at some of its locations by not only allowing pets, but also providing specialty dog carts for them to ride in while their pet parents shop!
Pet stores
Perhaps not surprisingly, both Petco and PetSmart celebrate their doggie clientele, by welcoming leashed, well-behaved dogs throughout each store at every location. Some locations even offer doggie daycare for shoppers.
Home improvement stores
Lowe's Home Improvement and The Home Depot are both well-known for allowing pets; however, the degree to which pets are welcome varies widely from location to location. It's important to check with each individual store before bringing your dog with you to help pick out lumber and bathroom fixtures.
Outdoor stores
Tractor Supply Company, a well-known agricultural and farming supply store, welcomes leashed, friendly dogs at most of its locations.  Just what you might expect from a store that supports pet adoptions and holds an annual Pet Appreciation Week!  Also, Bass Pro Shops and Cabela's, both of which are hunting, fishing and all-around outdoor authorities, allow pets at many of their locations; a fact that's not well-known, but also not surprising.  
Craft stores
Michaels craft stores have a reputation for being dog friendly. While not every location may welcome your pooch, some of them allow him to ride in the cart as you browse. Hobby Lobby is another PUP-ular craft store that welcomes four-legged patrons.
Local stores
Many local chains, or "mom-and-pop" stores, work to develop personal relationships with their clientele. They also tend to have a lot of discretion and autonomy when it comes to whether they allow pets in their establishments. Call ahead to your favorite local retailer - they may surprise you by saying your pet is welcome, especially if he's small enough to fit in a carrier or shopping cart.
Keep in mind that many of these stores only welcome pets on a limited basis. In some cases, the decision to allow pets is left to individual store managers. This means that while one chain location may welcome your pooch, another may have a no-pets policy. In other cases, a stand-alone chain location may allow pets, while a mall location may have to comply with the mall's no-pets policy.
Out of respect for the store and its patrons, any time your pet shops with you, he should be leashed and under your control at all times. Some stores ask that pets ride in shopping carts and be kept securely and tightly leashed.  Additionally, some ask that pups are contained in carriers. Make sure you are aware of a store's specific policies before visiting.
About TripsWithPets
TripsWithPets has been helping pet parents find pet-friendly accommodations since 2003. TripsWithPets provides online reservations at over 30,000 pet friendly hotels & accommodations across the U.S. and Canada. You'll find thousands of pet-friendly destinations like Moab, UT, Williamsburg, VA, and Dallas, TX. When planning a trip, pet parents go to TripsWithPets.com for all they need to book the perfect place to stay with their pet -- including detailed, up-to-date information on hotel pet policies and pet amenities. #jointheroadtrip