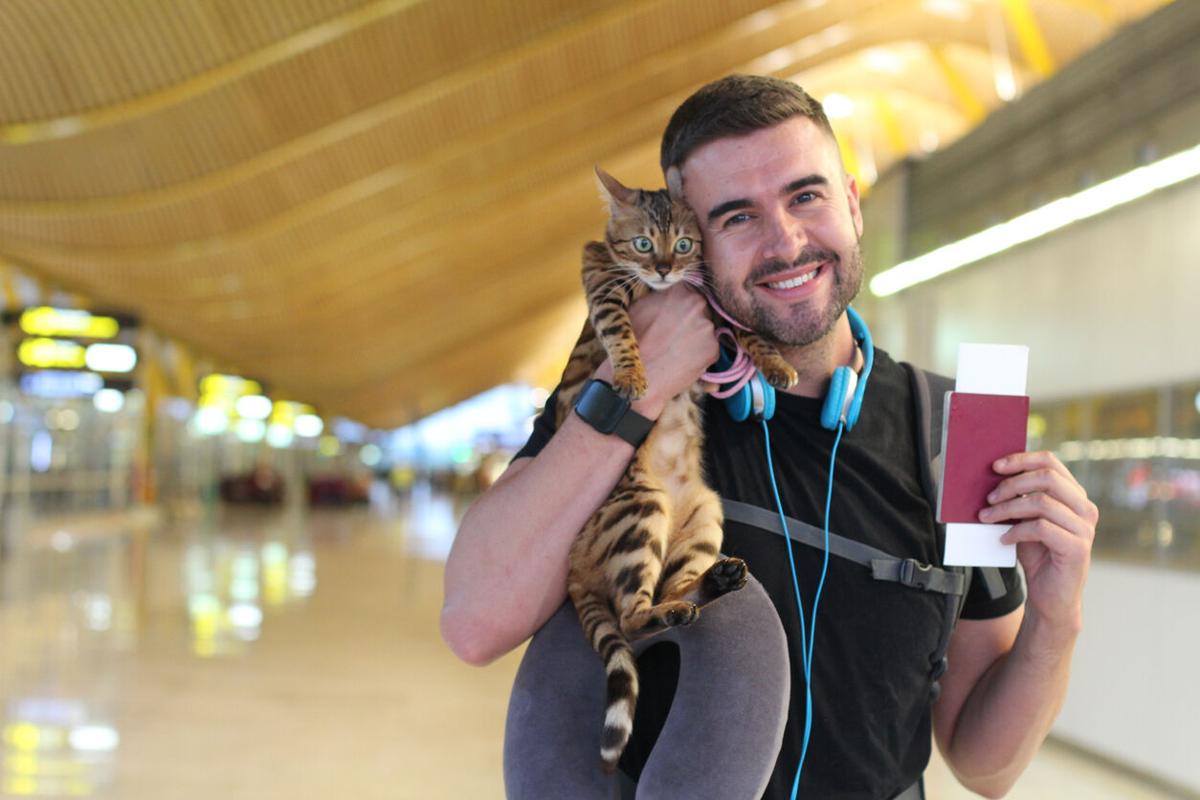 Looking for a unique and affordable way to see the country with your pet? Consider riding the rails! Train rides are a fun, classic, and very accessible way to travel. For example, Amtrak - one of the country's largest railways - boasts over 30 train routes, traveling to over 500 destinations, across 46 states! You'll enjoy great views of our country's scenery, and you can even see some sights only accessible by rail. Best of all, Amtrak lets you bring your small pet along for the ride! 
Dogs and cats weighing up to 20 pounds (that's pet and carrier weight combined) are welcome on Amtrak trips up to 7 hours on most routes. The railway allows 1 pet per customer, and requires a pet fee of $26 per travel segment. Checking your pet in is a straightforward, stress-free experience, so it's fairly easy to bring Rover, Fifi, or Tiger along.
With so many places to take your pup, it can be hard to choose a destination. Never fear - we've come up with a list of the most popular and scenic places to take your pet.
1. California Zephyr
Seasoned travelers frequently cite the California Zephyr as a can't-miss for railway travel. It cuts across the Nebraska plains, winds through the heart of the steep and craggy Rocky Mountains, and stretches through the snow-capped Sierra Nevadas. Riders are treated to some of America's most iconic and beautiful scenery, from Chicago to San Francisco.
2. Texas Eagle
The Texas Eagle is where the real adventure begins! This trek between Chicago and San Antonio takes you through iconic Texas cities, from cosmopolitan Dallas, to Artsy Austin, to historic San Antonio, where the Alamo is still remembered. But you'll also see natural wonders as you head through the steep hills of the Ozarks, across the Mighty Mississippi, and the gorgeous piney woods of Texas.  
3. Ethan Allen Express
For those who love the outdoors, the Ethan Allen Express is a journey worth taking. Spanning from New York City to Vermont, by way of Albany, you can enjoy outdoor adventures in upstate New York and rural Vermont, traverse miles of wilderness, see the iconic Hudson River Valley, travel across lush wine country, and trek through the stunning Adirondack Mountain range. From winter sports, to spring skiing, to colorful summer wildflowers and brilliant fall foliage, this journey offers something to do in every season.
4. Sunset Limited
Amtrak's southernmost route, Sunset Limited, takes you on a fascinating trip from the Deep South to the Golden State, through Texas, New Mexico, and Arizona. Experience unparalleled views of Bayou country, the iconic deserts of the Southwest, the Mexican border, and sunny California as you head from the bluesy, folksy city of New Orleans to the bustling metropolis of Los Angeles.
5. Coast Starlight
The gold rush may be long over, but you can still have an adventure out West! The Coast Starlight runs from Los Angeles to Seattle, passing through all of the West Coast's greatest and most iconic cities, including Santa Barbara, Sacramento, the Bay Area, and Portland. But it's not just about grand cities. This journey will take you through some of the country's most exquisite natural scenery, including steep, snow-topped mountain peaks; dense, green forests; lush, expansive valleys; and miles and miles of the beautiful Pacific shoreline.
6. Southwest Chief
On Southwest Chief, you can experience the diverse landscapes and stunning natural beauty of the American West, in ways you never could on the interstate. This route extends from Chicago to Los Angeles, with stops in spectacular cities like Flagstaff and Albuquerque, allowing you to see vast sections of the American countryside. Cross the majestic Mississippi. See towering mountains and serene deserts. Travel past ranches, wheat fields, Spanish missions, and Southwestern pueblos, and squeeze through narrow, winding canyon passages that are only slightly wider than the train itself.
About TripsWithPets
TripsWithPets has been helping pet parents find and book pet-friendly accommodations since 2003. TripsWithPets provides online reservations at over 35,000 pet friendly hotels & accommodations across the U.S. and Canada. When planning a trip, pet parents go to TripsWithPets.com for all they need to book the perfect place to stay with their pet -- including detailed, up-to-date information on hotel pet policies and pet amenities. Enjoy exclusive deals, get travel tips and news @ #jointheroadtrip.