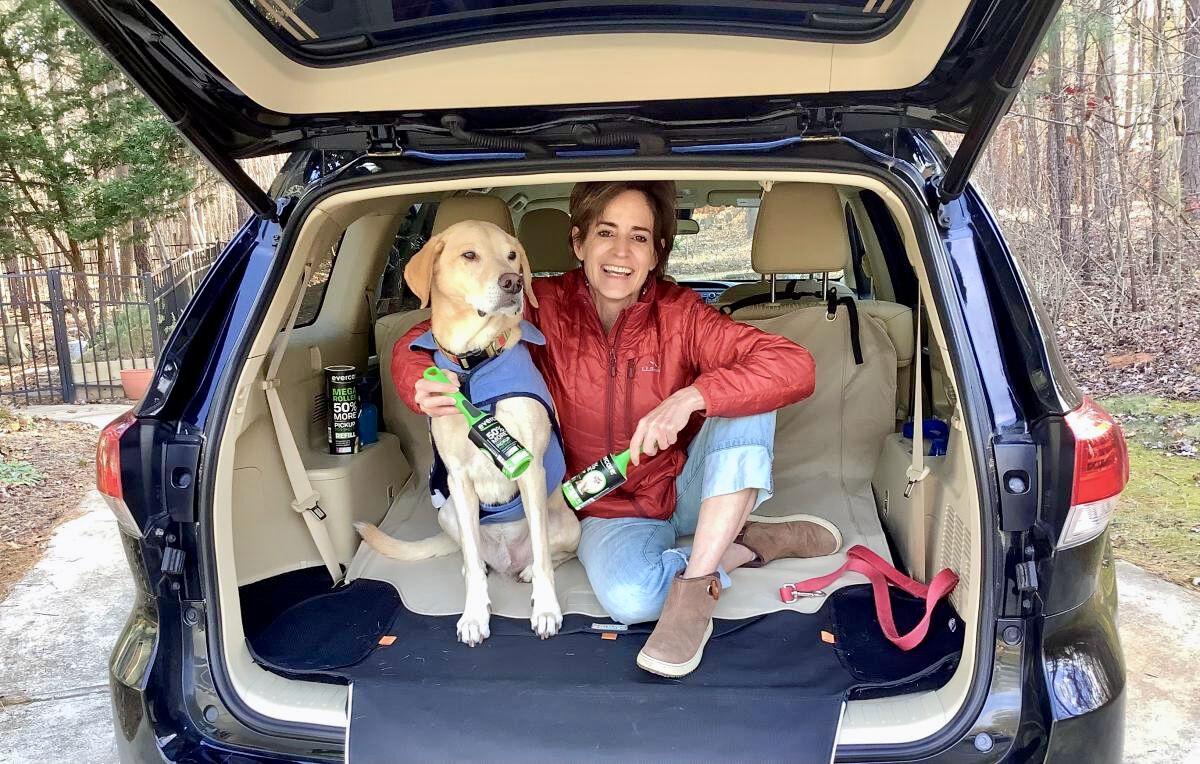 We adore our pets, and we want them by our side wherever we go - whether it's heading around the corner to the store, or heading across the country on a road trip. Of course, every great adventure involves getting a little bit messy. And when it comes to car trips with pets, that mess is in the form of pet hair.
"Our pets are family, and they occupy multiple spaces in our lives, like our sofas, our beds, and our cars," says Nitasha Rohatgi, Senior Brand Marketing Manager at Evercare, a leading manufacturer of lint rollers. "It's important to have practical solutions for keeping these spaces clean and comfortable, especially when it comes to pet hair."
With all their static-cling surfaces and confined spaces, car interiors attract pet hair like moths to a flame. Whether fur is drifting through the air, ingraining itself into the car seats, or rolling around the dashboard like a tumbleweed, car travel with a pet is inevitably going to lead to a hairy situation.
You have two options for controlling pet hair in cars:  prevention and cleanup. A common sense approach that includes a little of each option is usually your best bet.
Prevention
Prevention won't necessarily take care of all of the mess, but it will help dramatically and make cleanup easier.
Frequent grooming
Consistently using tools like undercoat rakes, shedding brushes, and deshedding shampoos can keep lots of unwanted hair from ever making its way into your car. From basic, no-frill varieties to breed-specific tools that promise customized results, there are plenty of options from which to choose. Just make sure to slowly accustom your pet to any new grooming techniques so he will be receptive to thorough grooming.
Pet clothes
This may sound like an odd idea, but it really does work. Putting your dog in a close-fitting t-shirt or sweater before a trip noticeably cuts down on the amount of fur that ends up on your seats and carpet.
Cargo cover
Cargo covers were specifically created for use in the back cargo area of minivans and SUVs. Their L-shaped design fits snugly against the back of the seat and the floor, keeping both pet-hair free. As soon as you get to where you're going, you can easily unload your pup, remove the cover, and clean it off.
Back seat hammock
A back seat hammock is a great option for containing and easily disposing of pet hair. Made from spill-proof, soft, lightweight material, the hammock hangs between two seats. Unlike a traditional seat cover, this design provides full coverage for car seats and floors. When you return from your road trip, you can easily slide the hammock out and clean it.
Cleanup
Cleaning up pet hair after a car trip isn't the most fun way to spend your time, but it has to be done. Fur has a way of taking over dashboards and embedding itself firmly into carpets and seats if it's not routinely kept in check. Here are our tips and tricks for tufts of fluff bold enough to defy all of our preventative measures. 
Lint roller
The Evercare line offers several different sizes: a small roller that can be stashed in a purse or cup holder, making it handy for a quick front-seat once-over; a giant lint roller for larger car messes; and a mega roller that features an extendable handle that allows you to reach everywhere around the car. Evercare's lint rollers are known for being super-sticky, but our favorite feature is their sturdy, ergonomic handles, which make them comfortable to hold and reliable to use.
Microfiber cloth
Dashboards, interior doors, and vinyl seats can be surprisingly hard to clean. Microfiber cloths are a great solution – rather than just sending hair floating around like a regular cloth, they actually trap hair and remove it. They're also soft, non-damaging, reusable, and simple to store. Casabella Infuse has a durable, dual-sided microfiber cloth that's great for most cleaning tasks. The rough side traps hair and scrubs off grime and goo, and the soft side restores shine to smooth surfaces.
Latex rubber glove
Here's another tip that sounds odd, but is tried-and-true. A simple latex glove is great at getting pet hair off of fabric seats and vehicle carpets. Just put one on and run your hand over the spot you want to clean. The pet hair pulls right up and forms into a pile that you can easily collect and toss out.
Shop vac
Every now and then, your car needs a deep clean. For this task, you may want to invest in a shop vac. Reliable, well-known brands like Dyson and Black + Decker feature powerful cordless models designed specifically to tackle pet hair. If you routinely head out to the beach or the lake, a wet/dry vacuum is a great tool for removing wet, matted pet hair from your car's soft surfaces.
If you'd prefer something portable and easy to maneuver, there's always the handheld vac; many versions feature pet hair attachments. If you want something that can go with you everywhere, mini-vacs are a good option. They may not always have the power of larger cordless vacuums, but they're easy to stash and carry and great for spot-cleaning smaller messes. 
Takeaway
Cleaning up the pet hair after car rides might be a thankless task, but it's a task made much easier with these simple tips and easily accessible devices. Besides, going the extra mile for your furkids is worth it, if it means they get to come along on whatever road trip adventures lie ahead!
About TripsWithPets
TripsWithPets has been helping pet parents find pet-friendly accommodations since 2003. TripsWithPets provides online reservations at over 35,000 pet friendly hotels & accommodations across the U.S. and Canada. You'll find thousands of pet-friendly destinations like Denver, CO; Charlotte, NC; and Cleveland, OH. When planning a trip, pet parents go to TripsWithPets.com for all they need to book the perfect place to stay with their pet -- including detailed, up-to-date information on hotel pet policies and pet amenities. Enjoy exclusive deals, get travel tips and news @ #jointheroadtrip.