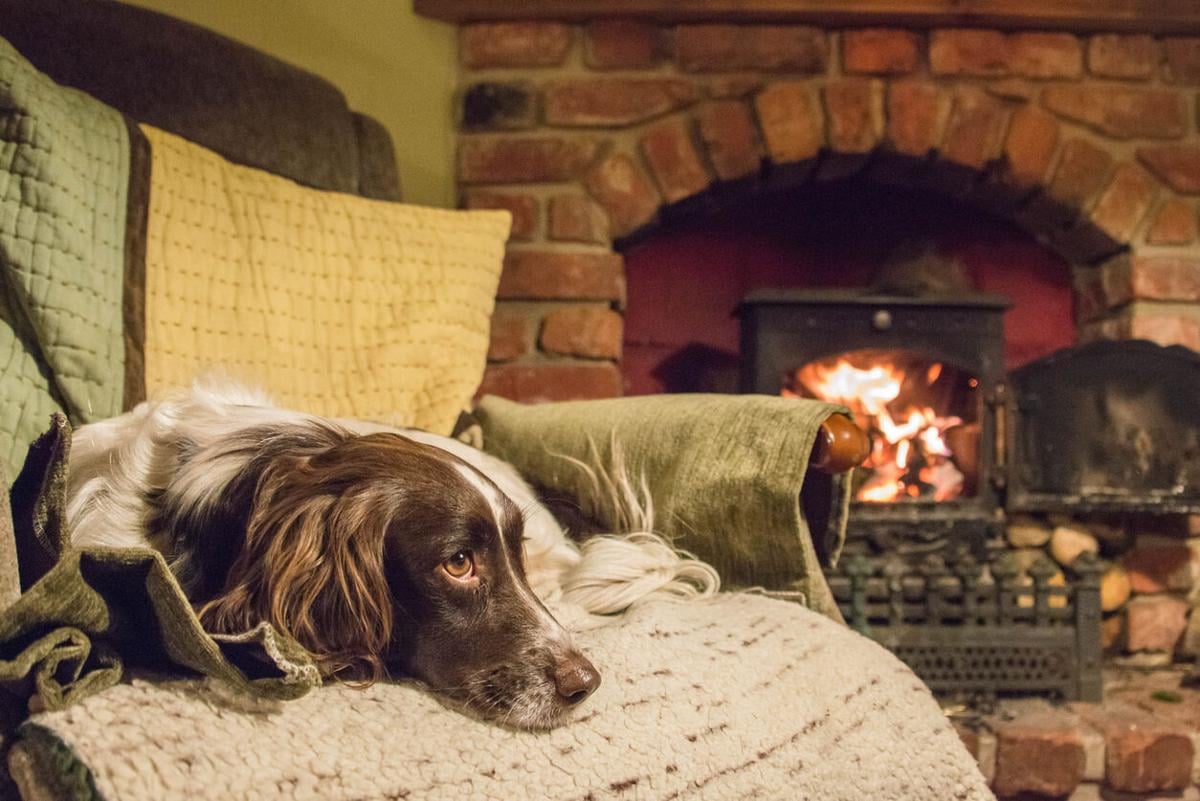 Many people who love to travel don't do so as often as they'd like. They have a variety of reasons for staying put--lack of vacation time, a demanding job, difficulty scheduling around family commitments. But the concern that most often tops the list is money. The extra expense of boarding beloved pets or bringing them along can make planning trips even more daunting for would-be travelers.  
Sure, travel can be expensive, especially if your desired destination is fancy, far away, or immensely popular. But if your only goal is to get away and experience something new, it's completely possible to do so on the cheap -- even with your furkid by your side.
Here's our list of accommodations across the country that are not only affordable -- they're pet friendly and offer an amazing travel experience.
1.  Rocking M Retreat in Murphy, NC
Cozy, beautiful, and built with love, Rocking M Retreat in Murphy, North Carolina is a perfect choice for nature lovers looking for a quiet place to get away. The owners place a high priority on their guests being comfortable, and provide a number of thoughtful details they'll love.  These include fully-stocked kitchens, professionally cleaned and sanitized accommodations, and high-speed WiFi. Rocking M Retreat welcomes pets, so you can do some Southern front-porch sitting with your pooch, or lounge with your furkid on a beautiful back deck. You can also dine outdoors in any weather around the retreat's massive fire pit/grill. Rates start at $125 per night, but there are 2 bedrooms, so it's easy to bring friends along and share the cost. There's no pet fee (hooray!). There is a required pet deposit, but if your pet doesn't cause any damage, they'll refund it to you.
2.  Anchorage Cottages in Long Beach, WA
Situated on a tranquil western ridge on Washington's Long Beach Peninsula, Anchorage Cottages offers beautiful, quiet, cozy accommodations just steps away from the ocean. Choose from one- or two-bedroom cottages, with or without a fireplace. Each cottage features charming gardens, relaxing patio areas, and a shared private path down to the ocean. Most of the cottages welcome furry travelers. Rates start at $108/night, with an affordable $15 pet fee.
3.  Jacksonville's Magnolia Inn in Jacksonville, OR
Located in the charming and historic town of Jacksonville, Oregon, Jacksonville's Magnolia Inn offers visitors an elegant, comfortable, and unique travel experience. History lovers in particular will appreciate the views of the oldest church in Oregon, the former Jackson County Courthouse, and other beautiful and significant historical buildings. They'll also enjoy the opportunity to go on a historic trolley tour of vintage homes and businesses.
Wine lovers will enjoy Jacksonville in the summer, when they can visit their choice of over 60 wineries situated close by in Rogue and Applegate Valley. Leaf-peepers will want to come in fall for the spectacular fall foliage. Those simply looking to explore the town will enjoy award-winning dining, unique shops, and gorgeous hiking trails any time of year. Rates start at $134 per night, and the hotel welcomes up to 2 pets for a one-time cleaning fee of $25.
4.  North Shore Lodge Resort in Warm Lake, ID
Escape to the charms of mountain life at the North Shore Lodge Resort. Come in warmer months to explore mountain hiking trails, visit natural hot springs, or go fishing, boating, swimming, and paddleboarding. Come in winter and enjoy ice fishing, snowshoeing, and snowball fights! This cozy and tranquil resort is located 26 miles east of Cascade, and situated right on Warm Lake. There are 10 cabins to choose from, and all of them are pet friendly.
You don't ever have to wander far from the resort--the on-premises restaurant is open seven days a week and offers breakfast, lunch, and dinner. If you're looking for nightlife, you'll find that onsite, too -- the full bar is open until 2 a.m. and karaoke is available upon request. Rates start at just $95 per night, and the pet fee is just $25 per stay.
5.  Candlebay Inn in Freeport, ME
Built in 1848, this former shipbuilder's home is now a charming and beautifully restored bed and breakfast in the traditional New England style.
Candlebay Inn offers visitors a homey, cozy experience, with personal attention and comfort being the highest priority. The inn is walking distance from the quaint village of Freeport, which features charming restaurants and numerous outlet stores, including the L.L.Bean flagship store. Freeport is a very pet-friendly place to explore -- many stores, shops, and restaurants welcome four-legged visitors.  
Candlebay Inn also welcomes furry travelers. Rates start at $109 per night, and the pet fee is just $20 per stay.
6.  Enchanted Mountain Retreats in Blairsville, GA
Relax and disconnect from your busy life at Enchanted Mountain Retreats. Here in the North Georgia mountains, you can enjoy a carefree existence where you reconnect with nature, and with the ones you love most. Whether you come for a weekend getaway or a long, much-needed vacation, you'll create wonderful memories in this tranquil Blairsville retreat. 
Enchanted Mountain Retreats is all about hospitality, from the welcoming gift basket, to the cozy accommodations, to the care they show four-legged visitors.  Some of their cabins are even fenced-in for your pet's safety and comfort. Rates start at $99 per night and pet fees -- well, there aren't any!
7.  Blue Iguana in Ojai, CA
Quirky, charming, and wholly unique, the Blue Iguana is famed for its artistry and its hospitality. Located in Ojai Valley, an artist's mecca that has long attracted creative minds of every kind, this boutique inn is hip and stylish, yet full of Old-World artistic charm. The Blue Iguana is just 2 minutes from the historic Ojai village and 12 minutes from the majestic Pacific Ocean, and offers affordable luxury, vibrant style, and a location begging to be explored.
Whether you want to get away for the weekend to recharge your creativity, or for a good long while to recharge your batteries, the Blue Iguana will welcome you and your pet. Rates start at only $105 per night and the pet fee is just $20.
8.  Mountain Air Cabins in Sevierville, TN
Beautiful, vast, and welcoming, the Smoky Mountains are a perfect place for a nature getaway, and Mountain Air Cabin Rentals is a perfect choice for a private mountain retreat!  Mountain Air offers several different cabins to choose from, with one to five bedrooms. All of them feature the comforts of home, as well as hot tubs, fireplaces, fully-equipped kitchens, and stunning mountain views. In addition to Sevierville, they also have cabins in Pigeon Forge, and Gatlinburg!
Pets are welcome, so you can explore the Smokies with your best furry friend, or relax on your deck and take in the fresh air and the mountain scenery. Rates start at an affordable $99 per night and the pet fee is $50 per stay.
About TripsWithPets
TripsWithPets has been helping pet parents find and book pet-friendly accommodations since 2003. TripsWithPets provides online reservations at over 30,000 pet friendly hotels & accommodations across the U.S. and Canada. When planning a trip, pet parents go to TripsWithPets.com for all they need to book the perfect place to stay with their pet -- including detailed, up-to-date information on hotel pet policies and pet amenities. Enjoy exclusive deals, get travel tips and news @ #jointheroadtrip.