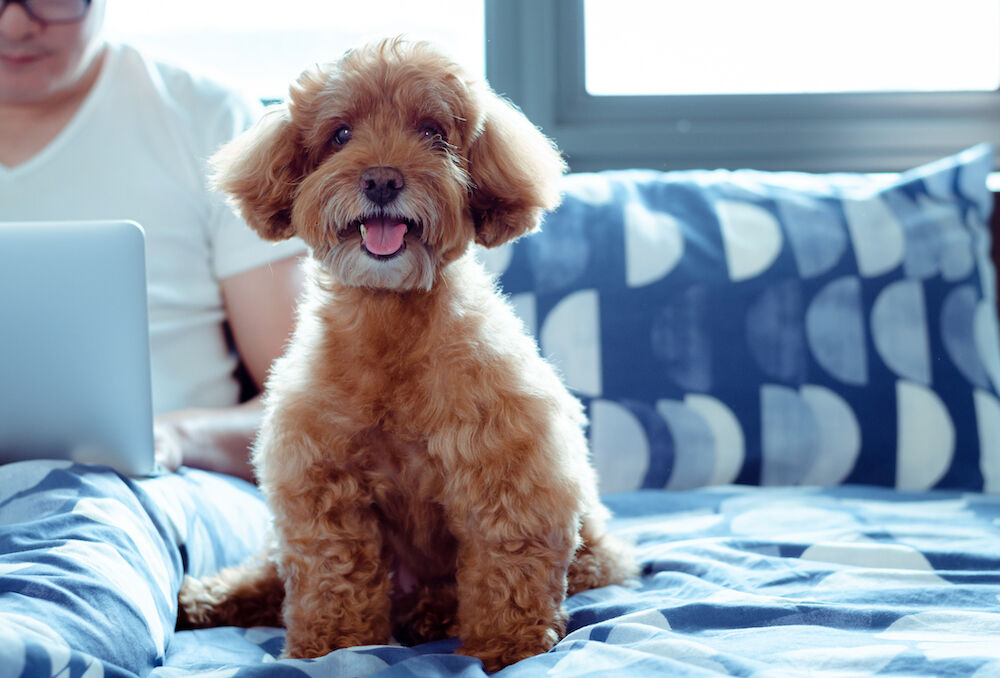 Nothing compares to the excitement and joy of bringing a new four-legged family member home to love and care for.  But when that home is an apartment, special considerations must be made before and after adopting. Here are our tips for ensuring you and your pet are both happy and comfortable with apartment living.
Be upfront with your landlord or leasing office
It's tough out there for animal-loving apartment dwellers, and many renters surveyed said they had a hard time finding an apartment that accepted pets.  No matter how perfect an apartment may seem, if you plan to adopt a pet, be thorough and ask about all pet policies, including the breeds, types, and number of pets allowed before signing any lease.
As tempting as it is, sneaking a prohibited pet into an apartment is not a good solution for either of you.  At best, you could lose your security deposit; at worst, you could face eviction, or be forced to rehome your pet, which would be hurtful to you and unfair to him.
Do your homework so that you can adopt the right pet
Adopting a pet is not something that should be done on impulse, and choosing a pet shouldn't be a quick decision.  Take your time and think carefully about your living situation.  Ask yourself whether the pet you're considering would be happy living in your apartment, and whether your lifestyle makes it possible to meet his needs.
Cats are always a favorite for apartment dwellers.  They're cuddly and quiet, they take up minimal space, they're content being left alone, and they can get plenty of exercise indoors.  
Dogs are needier, but that doesn't mean they can't be great apartment pets.  Smaller, quieter, lower-energy dogs can be a perfect fit, especially if you spend a lot of time at home.  However, very large breeds, working breeds, high-energy dogs, and dogs prone to excessive barking often don't make good apartment mates.  Before you adopt a dog, research his breed and find out about his temperament to ensure he'll be happy living in your apartment. 
Smaller, lower-maintenance pets like bunnies, guinea pigs, and gerbils make perfect pets for small apartments.  They're more cuddly and interactive than fish or reptiles, and they're easier to take care of than cats and dogs.  They take up a limited amount of space, and they spend most of their time in enclosures, minimizing damage. Be aware that the enclosures will need to be constantly maintained to keep odors and mess to a minimum, and these small pets can cause considerable chewing damage if they escape or are allowed to roam free.
Consider your pet's exercise needs
Dogs of all breeds, shapes, and sizes require some amount of exercise to stay happy and healthy.  So it's essential to find other means of exercise for dogs who live in apartments and lack backyards for running around.  Look for dog parks and walking trails in your area, and map out a good route around your neighborhood.  If you work long hours, consider hiring a dog walker to take your pet for walks when you cannot. 
While cats don't require as much exercise as dogs, playtime is still an important factor in keeping them healthy and content.  Make sure your cat has places to climb and toys she enjoys playing with.  Take time to learn how you can play together. 
The exact amount of exercise your pet will need depends on a variety of factors, including breed, age, and temperament, so do your research.
Protect your pet and your apartment by pet-proofing
Pet-proofing not only makes your landlord happy, but also keeps your pets and belongings safe.  Before your furkid comes home to stay, check your apartment for hazards.  This means getting down to your pet's eye level and looking around for things your pet might find irresistible, like loose wires, shoes, loose boards, small crawl spaces, and kids' toys.  Find an out-of-reach place for things you don't want chewed up, and secure or remove anything that might pose a danger. 
Remove houseplants, or place them out of reach.  A number of houseplants, including lilies, aloe, arrowhead, dieffenbachia, kalanchoe, oleander, and amaryllis, can have moderate to very high toxic effects on dogs and/or cats. 
Pets have trouble gaining traction on wooden floors, so consider using non-slip rugs where necessary. Use baby gates to restrict your pets from areas where they can cause damage, or where you can't ensure your pet's safety.  Finally, it's wise to invest in training for your pet, to ensure that he learns to behave himself, and to keep damage from accidents and misbehavior to a minimum.
About TripsWithPets
TripsWithPets has been helping pet parents find pet friendly accommodations since 2003. TripsWithPets provides online reservations at over 30,000 pet friendly hotels & accommodations across the U.S. and Canada. You'll find thousands of pet-friendly destinations like Decatur, IL, Lynchburg, VA, and Napa, CA. When planning a trip, pet parents go to TripsWithPets.com for all they need to book the perfect hotel for their pet -- including detailed, up-to-date information on hotel pet policies and pet amenities.