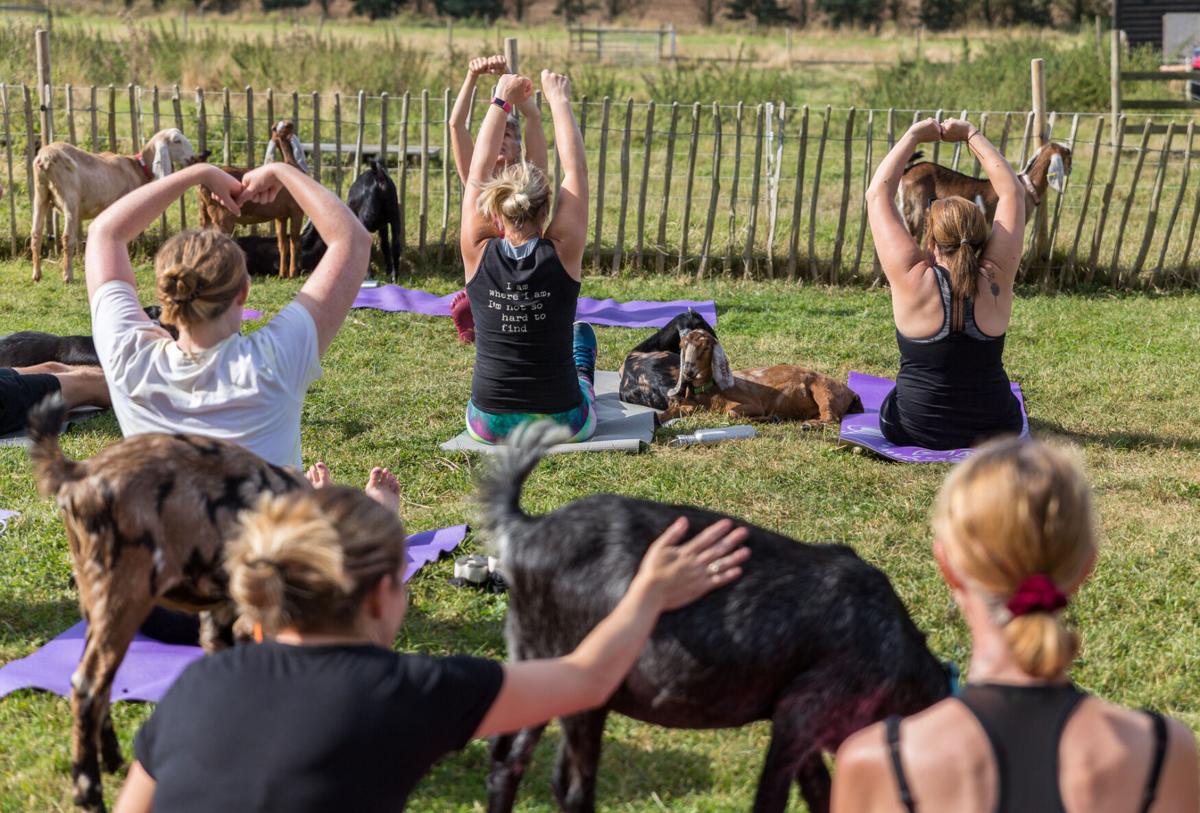 Yogis are hoofing it to goat farms to practice their sun salutations alongside furry KIDs! 
Goat yoga is much more than fitness - it's good for the soul!  It's connecting with nature in a unique, comforting and loving way. 
How did goat yoga start?
Goat yoga originated at a farm in Oregon back in 2016. Yoga enthusiasts, animal lovers and nature lovers were immediately drawn to it. Yoga with goats quickly caught on to become a big hit with those yearning to spend time with nature and loving animals, while getting in their zen and downward dogs! There's nothing quite as therapeutic as spending some time on a farm, out in the open air, and with precious little goats! 
How does the class work?
Yoga with goats attracts both novice practitioners as well as advanced yogis. The instructor-led yoga class is conducted the same as any typical yoga class; however, goat yoga is routinely held outdoors in an enclosed area - and shared with precious little goats. Depending on where the classes are held, the goats may be babies, adults or both. There is typically a nominal fee to participate in a class, to help support the goats and their farm.  
What should you expect from the goats?
The goats typically meander and interact with yogis, and participate as they wish. Sometimes the friendly little goats just roam around as the instructor takes the class through a yoga flow. Other times, the goats will come up to you and maybe even give you a little nuzzle! And if they're feeling a little more playful, the goats may strike their own pose on your back (they give great massages!). Yes, they're known to jump on attendees' backs - particularly during certain yoga poses like planks, downward dogs and child poses. You can expect the goats to walk through your legs, lay on your mat, and even cuddle up on your lap! 
Where can you find a goat yoga class?
Goat yoga classes can be found pretty much everywhere across the United States. They are typically held seasonally at goat farms, whereas some farms only have pop-up classes. You can find goat classes via social media events, particularly the seasonal or pop-ups. However, there are farms that offer regular goat yoga classes. Here's just a sampling:
Patty's Parrot Palace in Deland, FL offers regular, weekly goat yoga classes that run from September through December. And yes, they also have yoga with parrots!
In Durham, NC you'll find Hux Family Farm. In addition to their traditional goat yoga classes, they offer a variety of classes including Stress Relieving Goat Yoga, Guided Meditation with Goats, and Yin Yoga with Goats.
Arizona Goat Yoga is ranked in the top 10 things to do in AZ. They offer year-round goat yoga so they've definitely "goat" you covered!  Classes are held at Welcome Home Ranch in Gilbert, Arizona.
Houston-based Goat Yoga Texas holds public classes most Saturdays & Sundays at Victoria's Natural Market in Northwest Houston, Texas. They also offer Mobile Goat Yoga and Mimosa Happy Hour!
In Doylestown, PA, close to Horsham, PA, you'll find Hellerick's Family Farm. This historic Bucks County farm offers seasonal, 1-hour goat yoga classes on Saturdays and Sundays. They tout one-of-a-kind memorable farm experiences for both guests and goats alike!
Seven Springs Farms in Fordland, MO, not too far from Ozark, MO, is home to Goats and Yoga - where zen and joy unite!  Yogis and animal lovers come from all over to splendor in their idyllic farm setting and adorable animals. They offer weekend goat yoga classes as well as Bunny Meditation!
Goat yoga is all about spreading love, peace and JOY! Namaste.
About TripsWithPets
TripsWithPets has been helping pet parents find and book pet-friendly accommodations since 2003. TripsWithPets provides online reservations at over 35,000 pet friendly hotels & accommodations across the U.S. and Canada. When planning a trip, pet parents go to TripsWithPets.com for all they need to book the perfect place to stay with their pet -- including detailed, up-to-date information on hotel pet policies and pet amenities. Enjoy exclusive deals, get travel tips and news @ #jointheroadtrip.