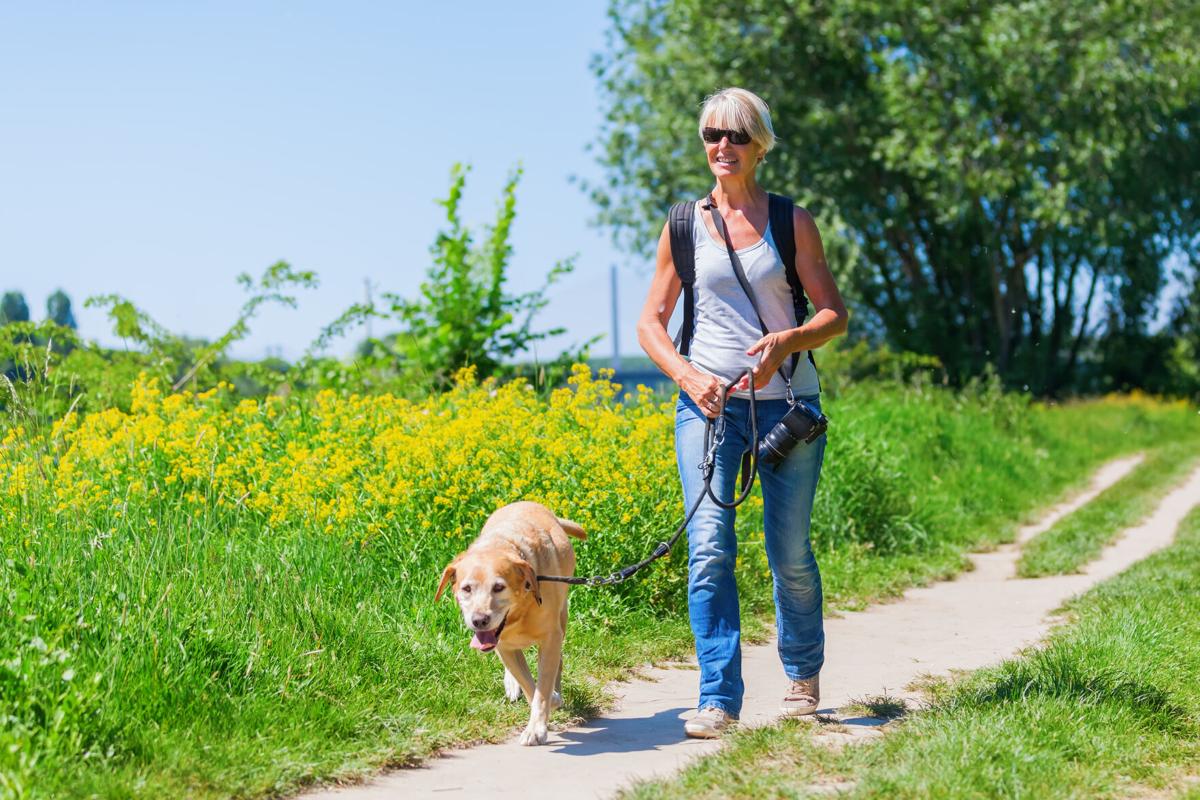 Spending time in nature is one of the best activities you can do with your pet, as it's something you'll both truly enjoy. Scenic, sincerely, and artfully cultivated, botanical gardens are one of the most underappreciated ways to explore the natural world with your pet. Many botanical gardens across the country are waiting to welcome you and your pooch. Here are 11 of the most beautiful, pet-friendliest gardens in the United States.
1. Zilker Botanical Gardens
Zilker Botanical Gardens may be just outside downtown Austin, but you'll feel as if you've traveled the world. Located on the south bank of the Colorado River, this garden features wonderfully diverse plant life arranged in separate exhibits, including the Hartman Prehistoric Garden, the Isamu Taniguchi Japanese Garden, and the Rose Garden. The garden paths are designed to accommodate visitors of all ages and abilities. Your pup is welcome to visit with you, as long as he stays on a leash, avoids the water features, and leaves everything as pristine as he found it.
2. Myriad Botanical Gardens
The pride and joy of Oklahoma City, Myriad Botanical Gardens is a huge expanse of exquisite greenery right in the heart of the city. Whether it's a festival, a seasonal event, a moonlight cabaret, or a nature-themed art installation, there's always something fascinating and fun happening at these gardens. Dogs are not allowed inside the Crystal Bridge Conservatory, but they're welcome to wander the expansive outdoor areas, and, of course, they can visit Myriad's very own dog park.
3. Santa Barbara Botanical Gardens
At this one-of-a-kind garden, you'll experience diverse natural wonders and a touch of the ancient world. The secluded and serene space is set against a backdrop of canyons, creeks, and mountains, and its dog-friendly trails meander effortlessly through redwood trees, swaths of desert, and pleasant meadows alike. At the garden's center you'll find Blaksley Boulder, one of many impressive stones brought to the area by ancient glaciers.
4. South Carolina Botanical Gardens
This verdant Southern gem is a massive display of some of South Carolina's most beautiful flora and fauna. The gardens encompass a wide expanse of 295 acres, and various nature trails will take you and your (leashed) pup alongside streams, gorgeous floral displays, and uniquely Southern landscapes. Dogs are welcome, as long as they don't dig in the flower beds, and they stay off the Natural Heritage Garden Trail.
5. Kanapaha Botanical Gardens
Lush, green, and colorful, this 68-acre facility features 24 major collections, which you and your pet can enjoy as you stroll down a 1.5-mile paved walkway. Kanapaha doesn't just allow pet visitors - they welcome them happily with delicious dog treats at the greeting desk. A favorite collection for canine and human visitors alike is the fragrant herb garden - the largest in the Southeast.
6. Mobile Botanical Gardens
Mobile Botanical Gardens is home to the Longleaf Pine Treasure Forest - one of the last remaining pine tree stands in the city. This garden is beautiful in any season, but in spring you and your pup can walk wooded trails lined with thousands of colorful native wildflowers. Mobile Botanical also features Langan Park, a well-maintained green space with a number of scenic pet-friendly trails.
7. Susan P. Duke Gardens
Located in the heart of Duke University, this venerated garden prides itself on horticultural excellence, and on engaging the local community and inspiring them to respect and admire the beauty and complexities of the botanical world. The gardens span around 55 acres, and 5 full miles of walking trails will take you and your pup through landscaped and wooded areas featuring some of the most beautiful, diverse, and expertly cultivated landscape the Southeastern United States has to offer.
8. Desert Botanical Gardens
This garden loves pets. It even features Dog Days at the Garden events, where families and four-legged friends alike can enjoy a walk through scenic Southwestern garden trails. Meet other dog lovers, pose for photo shoots, learn about local nonprofits that support canine welfare, and shop for goodies for your pooch. Whether you come for Dog Days or not, a visit to Desert Botanical Gardens allows you and your pet to experience the unique beauty of the Sonoran Desert, and see the incredible plants that grow and thrive in this harsh landscape.
9. Mendocino Coast Botanical Gardens
This one-of-a-kind garden is about much more than plants. More than 85,500 visitors come each year not just to view nature, but to play, relax, learn, find inspiration, and enjoy all of the sensory experiences this lush, vivid outdoor paradise has to offer throughout every season of the year. You and your pup can enjoy exquisite collections of dahlias, perennials and rhododendrons, as well as the exquisite Rose Heritage Garden.
10. Knoxville Botanical Gardens and Arboretum
Located only five minutes from downtown Knoxville, this storied garden is as timeless as it is beautiful. You and your four-legged companion can wander through 47 acres of magical and colorful garden spaces, and step into the past as you experience over 200 years of horticultural history. The pleasant walking trails wind through display gardens, historic horticulture displays, and antique stone walls and buildings.
11. Pittsburgh Botanic Garden
This unique garden makes botanical design personal. The focus is on education and inspiration - teaching visitors to love and appreciate plants, and inspiring them to design their own botanical paradise at home. Stroll with your pup through tulip fields, across tranquil woodlands, and along lily pad-covered ponds, and get a few fantastic ideas for your own outdoor space.
About TripsWithPets
TripsWithPets has been helping pet parents find pet friendly accommodations since 2003. TripsWithPets provides online reservations at over 30,000 pet friendly hotels & accommodations across the U.S. and Canada. You'll find thousands of pet-friendly destinations like Raleigh, NC, Denver, CO and Anchorage, AK. When planning a trip, pet parents go to TripsWithPets.com for all they need to book the perfect hotel for their pet -- including detailed, up-to-date information on hotel pet policies and pet amenities.