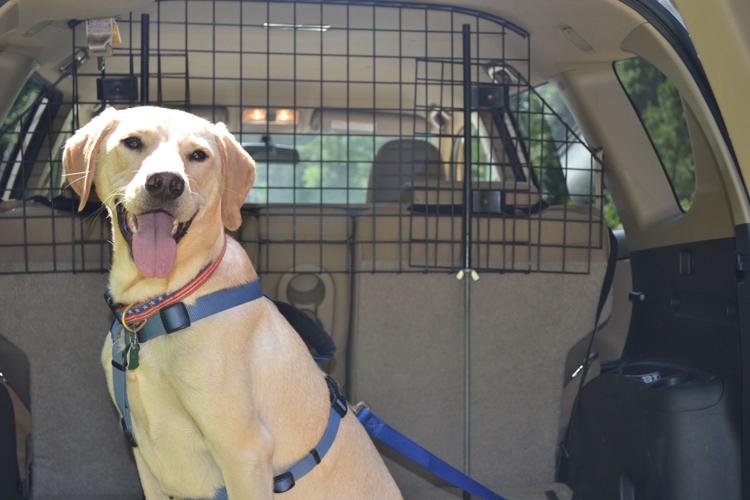 It wasn't too long ago that buckling seat belts was optional for drivers and passengers. People were generally unaware of the serious dangers posed by riding in cars without safety belts. Today, all that has changed. Everyone uses a seat belt, and wisely so.
While human passengers are now much safer on car trips, unfortunately the same cannot be said for many pet travelers. It's not only important to protect pets from injury during an accident, but also in the aftermath.  It's a common occurrence for a fearful, unsecured pet to run away, run into traffic, or even lash out at rescue workers or good samaritans who are trying to help.
Although the tides are changing a bit, there are still many pet parents who are either unaware of the importance of securing their furry family members on car rides, or not sure of the best way to do it. Here are the top ways to secure your pet in your vehicle.
Pet Car Seats
Special car seats for pets are a great option for smaller pets.  In fact, the largest pet seats generally accommodate pets weighing up to 25 lbs.  These car seats are secured in a vehicle similar to how a child's car seat is attached.  In addition, they come with a tether that attaches to your pet's harness to secure him in the car seat.  It's important to secure the tether to your pets harness, not his collar.  Attaching it to his collar could lead to serious injury (or worse) in the event of a sudden stop or accident.  Another nice feature with pet car seats is that they are elevated so that your little one can see out the window... and see you! Just like human car seats, pet car seats should always be placed in the backseat of your vehicle.
Pet Seat Belts
What's nice about pet seat belts is that they can accommodate pets of pretty much any size.  They come in all different sizes, levels of security, price points, and for the most part are very simple to use. Most pet seat belts attach to either your vehicle's female seat belt buckle or to the seat belt strap.  With the simpler ones, the other end is a tether that attaches to your pet's harness. Other, more fortified pet car seats secure your pet with a special  "built in" doggie harness.
Pet Travel Crates & Carriers
These are another popular way to secure pets in vehicles - especially cats.  Pet travel kennels and carriers come in just about any size to accommodate any size pet. You can find kennels that are hard-sided, soft-sided and some with grates.  No matter what type of crate you choose, it should be properly secured inside your vehicle so that it does not slide around with your precious cargo inside!  It's very important to select the right-sized kennel for your pet.  It should be just large enough so that your pet can easily stand up, turn around, and lie down.
Vehicle Pet Barriers
You've probably seen pets traveling around in the cargo areas of SUVs with typically either a mesh or metal barrier.  These keep them from climbing over seats into other areas of the vehicle, and they are the most commonly used pet barriers. However, there are some that are specifically made for cars which create a barrier between the front seat and the back seat. A back seat hammock is type of vehicle pet barrier that also protects the car's seats. It's essentially a hammock that covers your back seat and reaches up to the front seats' headrests.
These methods do a pretty good job of making sure pets stay put and do not hurt themselves or distract the driver.  However, a barrier alone is not the best option to keep pets safe.  Many pet parents use a vehicle pet barrier in conjunction with a pet seat belt to properly secure their pet.
Whichever pet restraint method you choose, it is recommended that pets do not travel in the front seat. Further, be sure to give your pet ample time to become comfortable with his new pet vehicle safety device.  Safe travels!
About TripsWithPets.com:
TripsWithPets is the premier online pet friendly travel guide -- featuring online reservations at over 30,000 pet friendly hotels & accommodations across the U.S. and Canada.  When planning a trip, pet parents go to TripsWithPets for detailed, up-to-date information on hotel pet policies and pet amenities.  TripsWithPets also features airline & car rental pet policies, pet friendly activities, a user-friendly search-by-route option, as well as pet travel tips and travel gear.