When it's four in the morning and you're sound asleep, the last thing you want to do is get up and let your dog outside. And when you're busy entertaining but know your friends are allergic to cat hair, the same logic applies. Don't feel like a bad pet parent -- simply do your dog, cat and yourself a favor by using a pet door or gate in your home. With so many choices out there, it can be hard to know what type of system is best for your household. So use this guide as a way to determine what both you and your pet most need from a dog door or pet gate.
Related: How to Choose the Right Pet Door
1. Pet Doors for the Active Cat or Dog: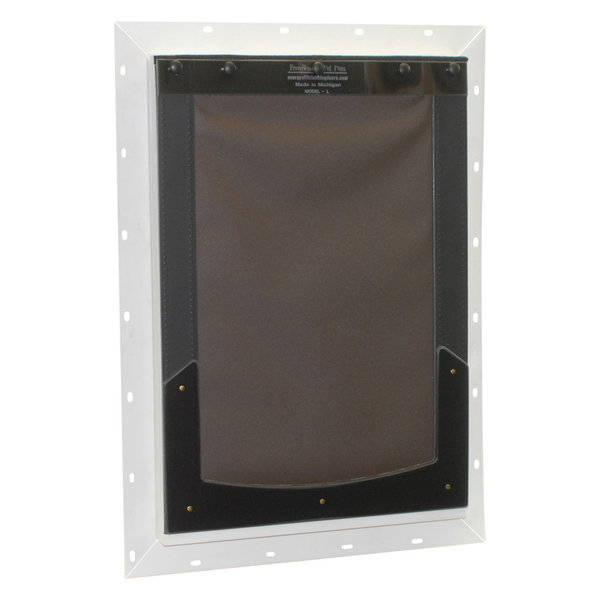 Let the Dogs Out, Keep the Warm Air In
One of the biggest obstacles pet owners may have about installing a doggie door in their homes is the cold air, rain or snow that it may bring in. But this energy efficient dog door solves that problem with a true airtight seal on the flap. Made from insulating PVC, this wall-mounted dog door is meant to withstand tough weather, while giving your pet the ability to move in and outside as it pleases.
Energy Efficient Dog Door, Wall Mount, Large from Houzz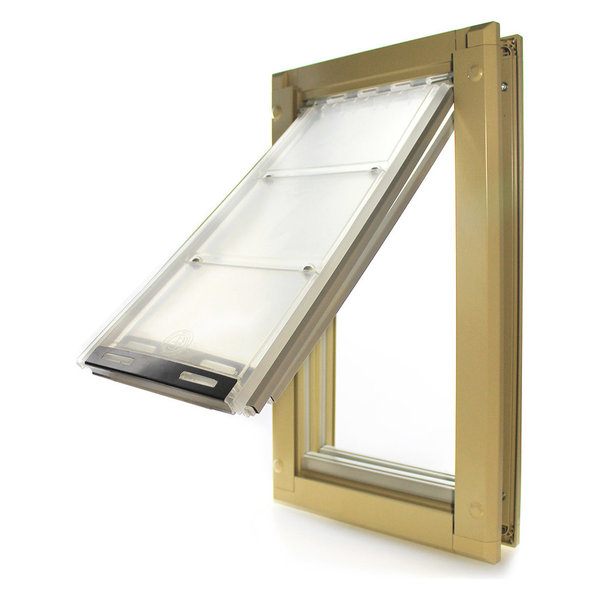 An Entrance Fit For a Pup
Give your dog or cat its own convenient entrance or exit right on your back door. This door-mounted pet door also seals firmly against outside weather with a magnetic locking system and two flaps for added insulation. And when your dog feels nature calling, you'll be able to stay sound asleep.
Endura Flap Pet Door, Door Mount, Small from Houzz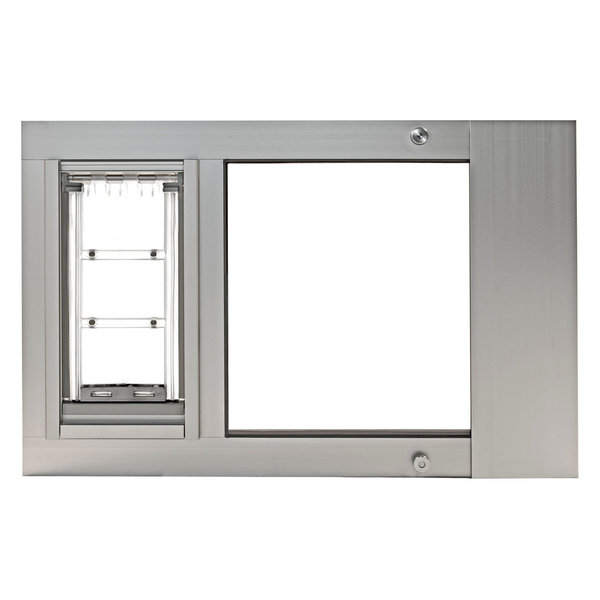 Your Cat's Escape Route
For those with an adventurous indoor-outdoor cat, providing a way for your feline friend to go in and out as it pleases is essential. And with this Endura Flap Pet Door, you'll be able to seamlessly integrate your cat's door into the look of your window. With several different size configurations and a highly insulating flap, this cat door is meant to please both owners and cats.
Endura Flap Pet Door Thermo Sash from Houzz
2. Tall Gates for Big Dogs and Pouncing Cats: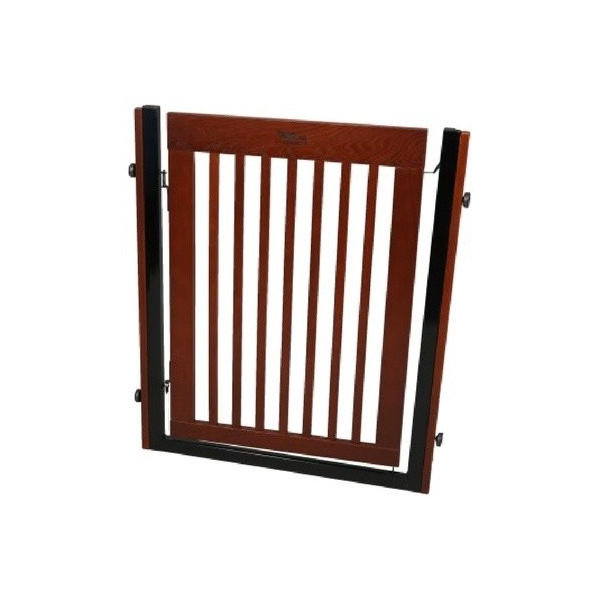 Rover, Stay
As loveable as our furry companions are, there are times when they just need to stay out of certain areas of the home. Create a functional yet elegant barrier with this handcrafted gate. At 36 inches high, this gate is perfect for containing larger dogs or cats that might easily jump over a smaller barrier. With a rich mahogany finish and a convenient swinging door, this gate is an essential addition to any pet owner's home.
Handcrafted Tall Pressure Mount Gate from Houzz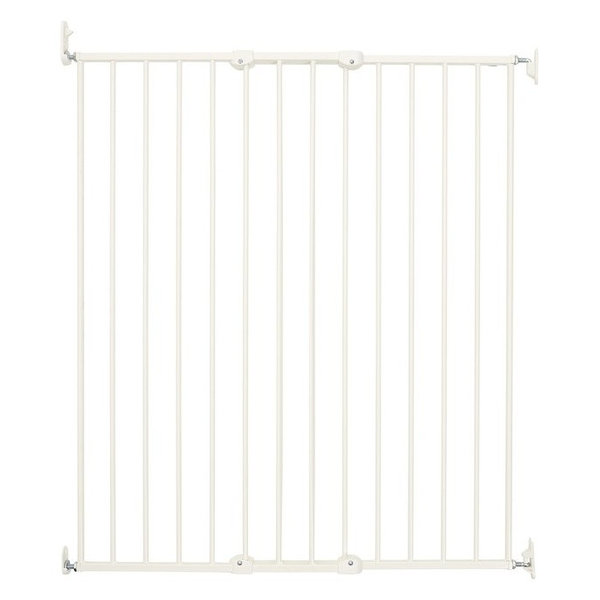 A Simple White Gate
Extra tall and slim, the Danish-made Baby Dan gate is ideal for stairways or small doorways that you don't want your cat or dog passing through. Standing at 39 inches high, this simple white gate is pressure mounted to the wall and has a latch that can easily be lifted up to go in and out. And with only about two inches of space between bars, even your sneaky cat will be kept safe and in place.
Baby Dan Extra Tall Wall-Mounted Gate from Houzz
3. Gates For the Style-Conscious: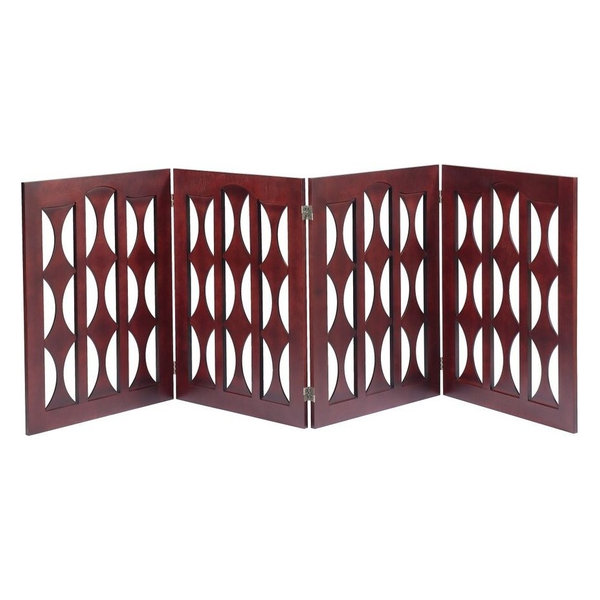 Functional Elegance
Owning a pet doesn't mean you have to sacrifice stylish interiors in your home. If you need to keep your pooch off of the couch or away from the dining room, set up this elegant patterned gate with a rich mahogany finish. With four panels that can be bent in either direction, this gate will make your life simpler without interrupting your home's classic look.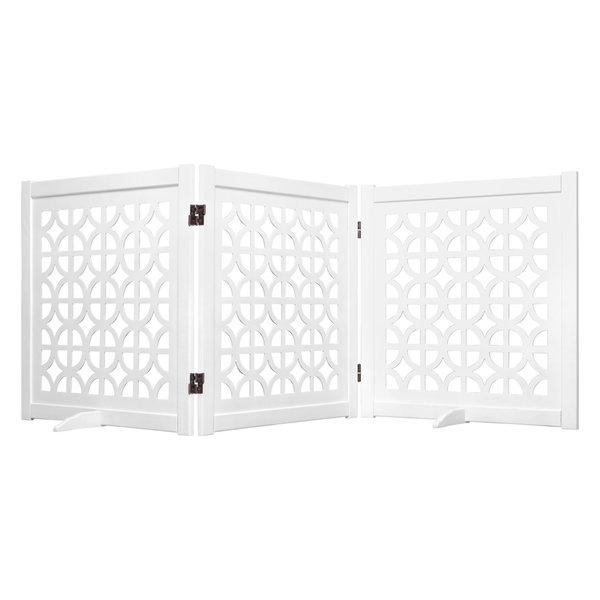 Cool and Contemporary
If you prefer a clean, all-white look, this stylish designer gate is another ideal solution for the aesthetically inclined pet owner. Made of solid wood and with three moveable panels, this gate will keep your pup in place and your home looking beautiful. For added functionality, it comes with support feet to remain standing even among the most rambunctious of dogs.
Palm Springs Designer Gate, 27" from Houzz
4. Expandable Gates for All Sorts of Spaces: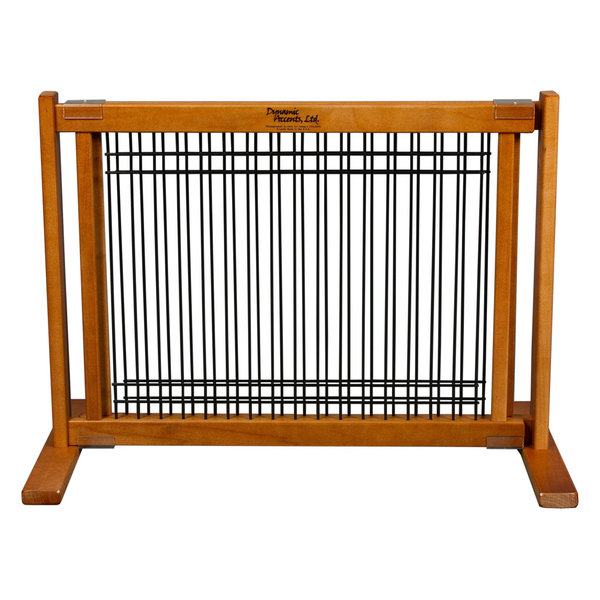 Handcrafted and Helpful
Maybe you don't always need a pet gate in the same spot, but use it as needed around the home. In that case, an expandable barrier is the best choice, like this handcrafted freestanding gate. The front panel can slide out to 48 inches wide or up to 72 inches on the larger model. You won't have to worry about hooking it up to the wall, so it can be used wherever you may need it right away.
Large Freestanding Gate, Artisan Bronze, Small from Houzz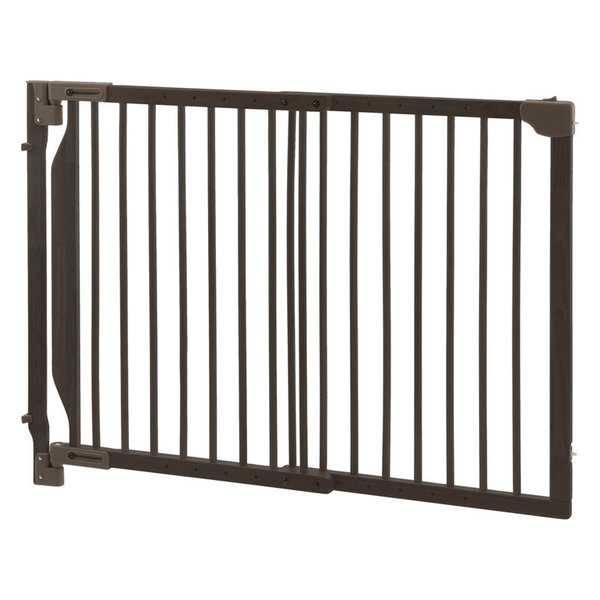 Walk Right Through
If you need a gate that will fit snugly on both your stairs and in other hallways, this expandable, walk-through gate is for you. With an adjustable width from 31.5 to 47.2 inches, this gate attaches securely to the wall to be safe in high traffic areas. And with a door that locks automatically when released, this gate won't be too much of a nuisance on you.