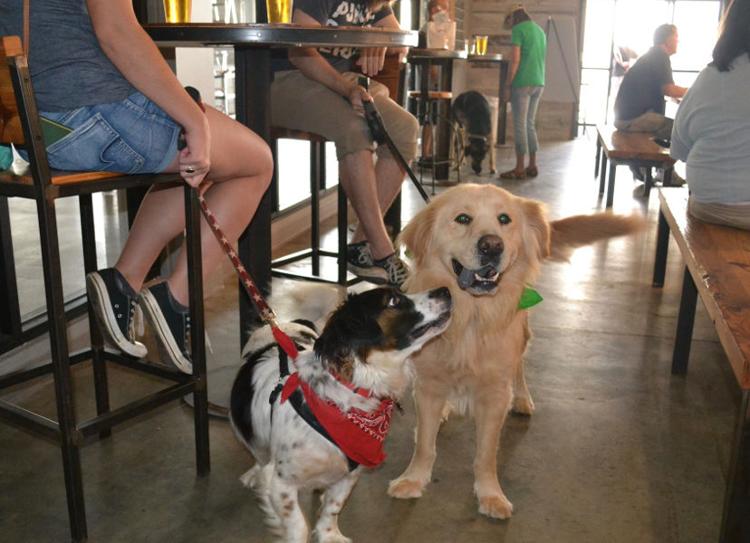 If you're looking for a way to relax, unwind and bond with your pooch, look no further!  Breweries and bottle shops are opening their doors to patrons of the two and four-legged variety, providing dog friendly fun for you and your pup all year round!
Craft breweries and bottle shops serve a variety of beers in fun and relaxing environments.  The key difference between bottle shops and craft beer breweries is that bottle shops do not manufacture their own beers, while craft beer breweries make and sell their own concoctions.  Because bottle shops and breweries both offer large selections of beers to choose from, you're sure to find plenty of options you'll love no matter where you go!
There are hundreds of dog friendly breweries and bottle shops across the U.S.  Whether you're traveling with your pooch or staying close to home, you're sure to find many wonderful options in all 50 states.
Growth and Growlers
Craft breweries are taking the U.S. by storm, with the number of locations doubling since 2011.  While Millennials have contributed in large part to this growth, breweries are popping up in all new locations for everyone to enjoy.  Craft beer breweries are keeping up with the demand by producing new and exciting beers, new flavors, and new styles to keep you coming back for more! 
Don't Leave Your Dog at Home!
Want to meet new people and pooches?  Breweries are a great place to mingle with your main pup.  If you prefer a quiet corner to soak in the scenery or a new favorite brew, you don't have to go it alone – bring your dog and get ready to kick back and enjoy your pup and your pint.  Time with you is your furry sidekick's favorite activity, so pick a brewery that suits you both and spend some time bonding with your beloved bow wow
Pints, Patios, and Pups
Service animals may be the only dogs allowed inside breweries that serve food, but have no fear!  Tons of breweries have outdoor seating areas where dogs are permitted, and many of these establishments have chosen to welcome pups on their patios with open arms.
There are some breweries and bottle shops that don't serve food, yet allowing pups inside can still be a health code violation.  Since some breweries obtain the same food permits as restaurants, they must adhere to the same pet regulations.  Penalties for letting pups hang out inside vary from state to state, but many breweries don't mind paying a fine so that people and their pups can enjoy breweries side by side.
Pet parents are always looking for things to do with their fur babies, and visiting breweries and bottle shops is a great way to get out and spend some time together. With no sign of brewery growth slowing down, you're sure to find a new favorite during your travels or near home that keeps you smiling and your pup's tail wagging!  
About TripsWithPets.com
TripsWithPets is the premier online pet friendly travel guide -- featuring online reservations at over 30,000 pet friendly hotels & accommodations across the U.S. and Canada.  When planning a trip, pet parents go to TripsWithPets for detailed, up-to-date information on hotel pet policies and pet amenities.  TripsWithPets also features airline & car rental pet policies, pet friendly activities, a user-friendly search-by-route option, as well as pet travel tips.